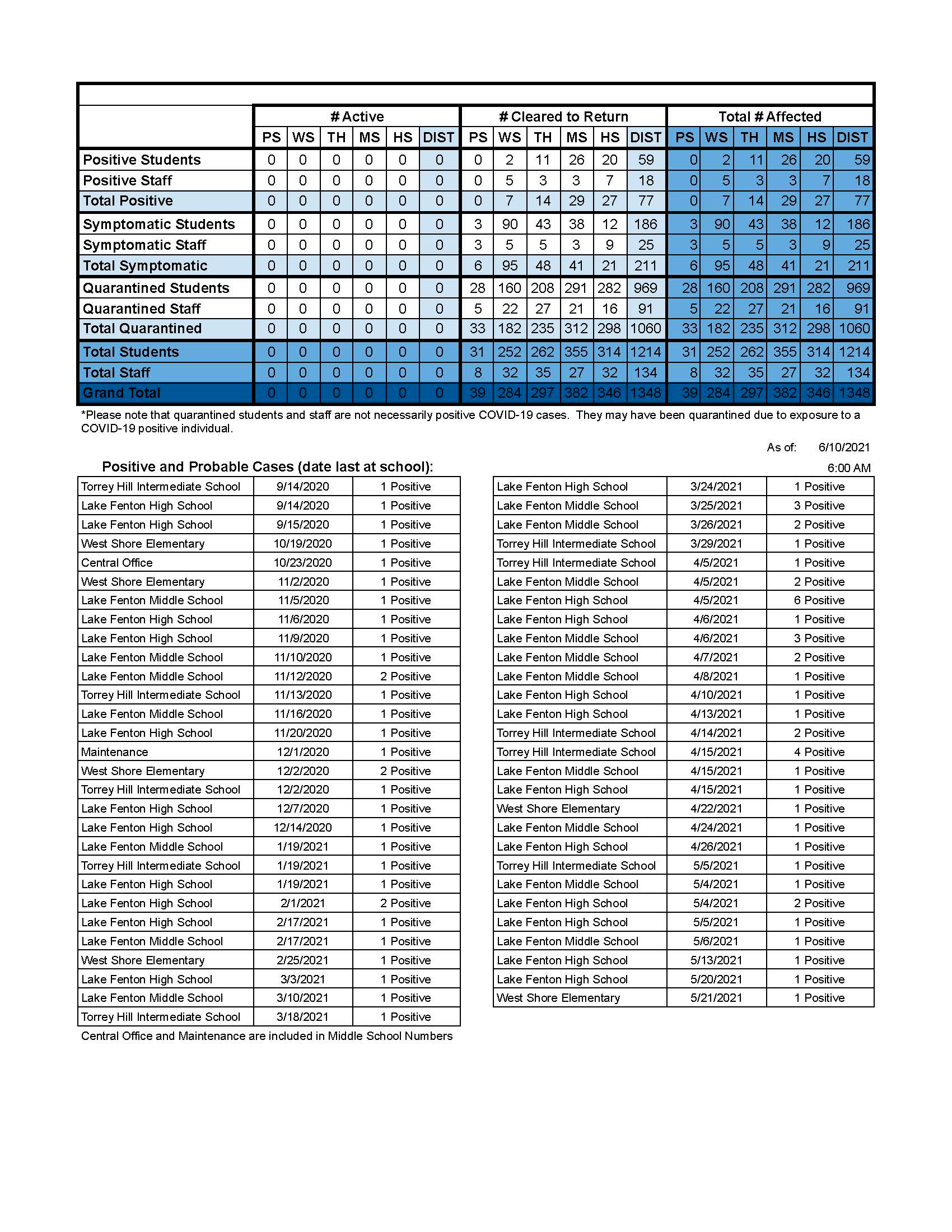 COVID-19 PREPAREDNESS AND RESPONSE
In our efforts to keep our students, staff and families informed with the latest information on COVID-19 or Coronavirus, please use this page as a reference for District communications regarding COVID-19 and other helpful resources.
Thank you for your attention to this matter.
RETURN TO SCHOOL INFORMATION
Weekends and Spring Break - Starting 3/21/20
The Road Community Church
301 W. South Holly
Fenton, MI 48430
Contact Person - Chris Vitarelli
(810) 922-2088
The Freedom Center Church
2473 W Shiawassee Ave
Fenton, MI 48430
Contact Person - JD Wiegand
(810) 629-5261
St. Jude's Episcopal Church
106 E. Elizabeth St.
Fenton, MI 48430
Contact Person - Dave Rayner
(810) 629-5681
Fenton Area Resource and Referral
N. 14165 Fenton Road #104a
Fenton, MI 48430
Contact Person - Dawn Placek
(810) 750-6244
Fenton United Methodist Church
119 S. Leroy St.
Fenton, MI 48430
Contact Person - Kathy Butts
(810) 629-2132
NAVIGATING EXTENDED TIME AWAY FROM SCHOOL: INFORMATION FOR FAMILIES WITH CHILDREN RECEIVING SPECIAL EDUCATION SERVICES
Supporting children with intellectual and developmental disabilities during extended times away from school and changing routines due to health outbreaks can be challenging. The link below provides a fact sheet for a number of strategies to use at home to help children settle into time away from school and into new routines, and to reduce worry and anxiety. The strategies are universal, meaning they work for children with and without disabilities.
http://www.michigan.gov/documents/mde/Extended_Time_Away_686513_7.pdf