Welcome to the Lake Fenton Educational Foundation Page!
The Lake Fenton Community Schools Foundation is a Michigan not-for–profit– corporation established in 2004. The foundation is funded through private donation and fund raising efforts of the foundation board and community. Monies raised will enable us to establish a permanent endowment fund and use the earned income to finance enhancement opportunities which would not exist for our students and teachers without the availability of foundation monies. In general, contributions made to the Lake Fenton Community Schools Foundation via the Greater Flint Foundation are not spent. Currently all check donations should be made payable directly to the Lake Fenton Community Schools Foundation which upon deposit are used for Lake Fenton School grants.
SHAMROCKS FOR EDUCATION GALA 2020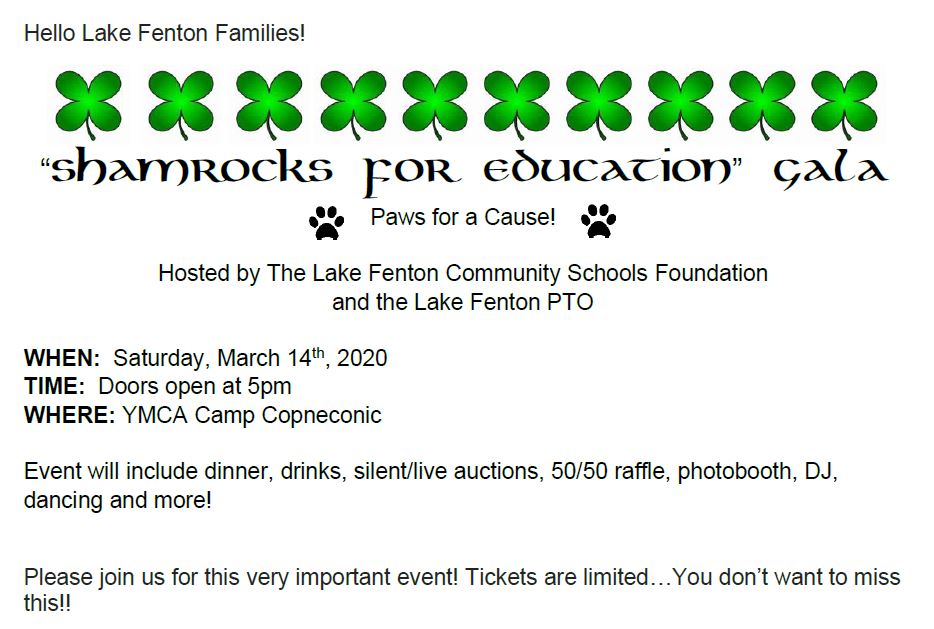 Come help us raise money for an important cause, honor this year's award recipients, and come together as a community to celebrate with dinner, dancing, silent auctions and much more!